Explore the 2023 Volvo Line-up in Seaside, CA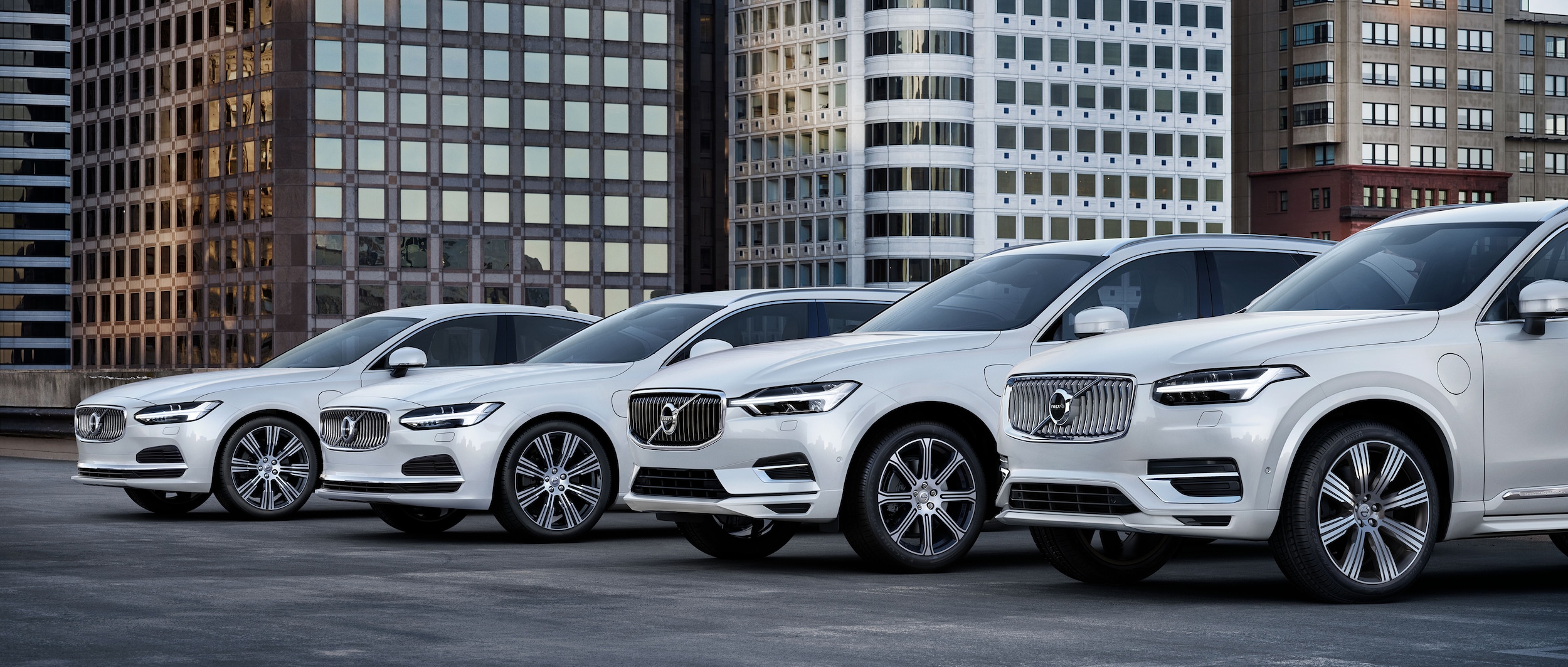 New 2023 Volvo Models Featured Near Seaside, CA
At Volvo Cars Monterey, the new 2023 Volvo lineup is immersed in sustainable efficiency. This overarching attribute paired with Volvo-minted luxury across available SUVs, sedans, wagons and crossovers.
It's then the Palo Alto shopper may revel in choice with models test driven for a well-informed decision made. The Volvo experience is one of envy.
Volvo Crossovers & Wagons
Volvo Cars Monterey - Explore New 2023 Volvo Luxury Models Near Palo Alto, CA
For test drives taken and vehicle features demonstrated, visit our local San Jose-area Volvo dealership.
And while here, there may be special promotions and incentives to secure in cash savings.
Transmission: eAWD
,
Exterior Color: Fjord Blue
,
Interior Color: Fjord Blue
View Details
Engine: 2.0L I-4 cyl
,
Transmission: AWD
,
Exterior Color: Silver Dawn
,
Interior Color: Charcoal
View Details
Engine: 2.0L I-4 cyl
,
Transmission: AWD
,
Exterior Color: Onyx Black
,
Interior Color: Blond
View Details
How can we help?
* Indicates a required field
Volvo Sustainability - Spanning Every Model Outside Salinas
The San Jose shopper intent on sustainability applied to a luxury model doesn't have to look far for accommodation. In fact, every new 2023 Volvo model will lessen reliance on fuel -- if it's even required at all.
And brand-new are Volvo mild-hybrid models offering a "no touch" renewable power source. This allaying any concern on behalf of Monterey shoppers without the facility for a plugged-in charge.
Volvo Mild Hybrids
Newly implemented is the Volvo mild-hybrid class of models for absolute convenience in sustainability.
By converting spent braking energy into a viable power source, fuel is sipped rather than fully consumed. This occurring as you drive in a self-charging operation without a plug or cable required.
Those models without the Recharge distinction are mild-hybrid powered by default and listed below:
Volvo mild-hybrid SUVs of XC90, XC60 and XC40.
Volvo mild-hybrid sedans of S90 and S60.
Volvo mild-hybrid wagons of V90 Cross Country and V60 Cross Country.
Volvo Recharge Plug-in Hybrids
The Volvo Recharge segment of plug-in hybrids remains formidable.
With each body style included, the beauty lies within the option of fuel-free mileage while in Pure mode and elevated efficiency when engaging Hybrid mode. There's also the option of running fuel-fired during longer distances traveled past Salinas.
Summarized below are Volvo Recharge plug-in hybrid models and the efficiency in mileage seized:
Volvo XC90 Recharge SUVs deliver 32-miles in Pure mode; 58 mpge in Hybrid mode.
Volvo XC60 Recharge SUVs earn 35-miles in Pure mode; 63 mpge in Hybrid mode.
Volvo S90 Recharge sedans secure 38-miles in Pure mode; 66 mpge in Hybrid mode.
Volvo S60 Recharge sedans welcome 41-miles in Pure mode; 74 mpge in Hybrid mode.
Volvo V60 Recharge wagons offer versatility in ground clearance with mileage comparable to S60 Recharge.
Volvo Recharge Pure-Electric
The Volvo Recharge pure-electric segment is comprised of two models at the moment.
Though soon to come is the first-ever 2024 Volvo EX90, a full-electric SUV welcoming of seven passengers. This new installment will complement those pure-electric models that require only a plugged-in charge for a fuel-free range extending to 226-miles.
Found below are the Volvo Recharge pure-electric models with select details outlined to each:
Volvo XC40 Recharge SUVs offer an interior that's free of leather with Google applications built-in and voice activated as a standard feature.
Volvo C40 Recharge crossovers lend a panoramic roof to an acceleration rate of 4.5-seconds when spanning zero to 60 mph.
Electric Vehicle Federal Tax Credits
No matter your preference in a new 2023 Volvo sustainable model, Electric Vehicle Federal Tax Credits may apply to your acquisition. This will enable the savvy Seaside shopper up to $7,500 in savings dependent upon the level of sustainability innate to the model in question.
More tax credits may be seen with installation of a dedicated home-charging unit, too.
As well, state clean-vehicle programs may offer considerable sums in rebates. Other benefits may comprise unfettered HOV carpool-lane access, free parking on metered streets within Palo Alto and on urban parking decks.