The 2022 Volvo XC40 Recharge in Seaside CA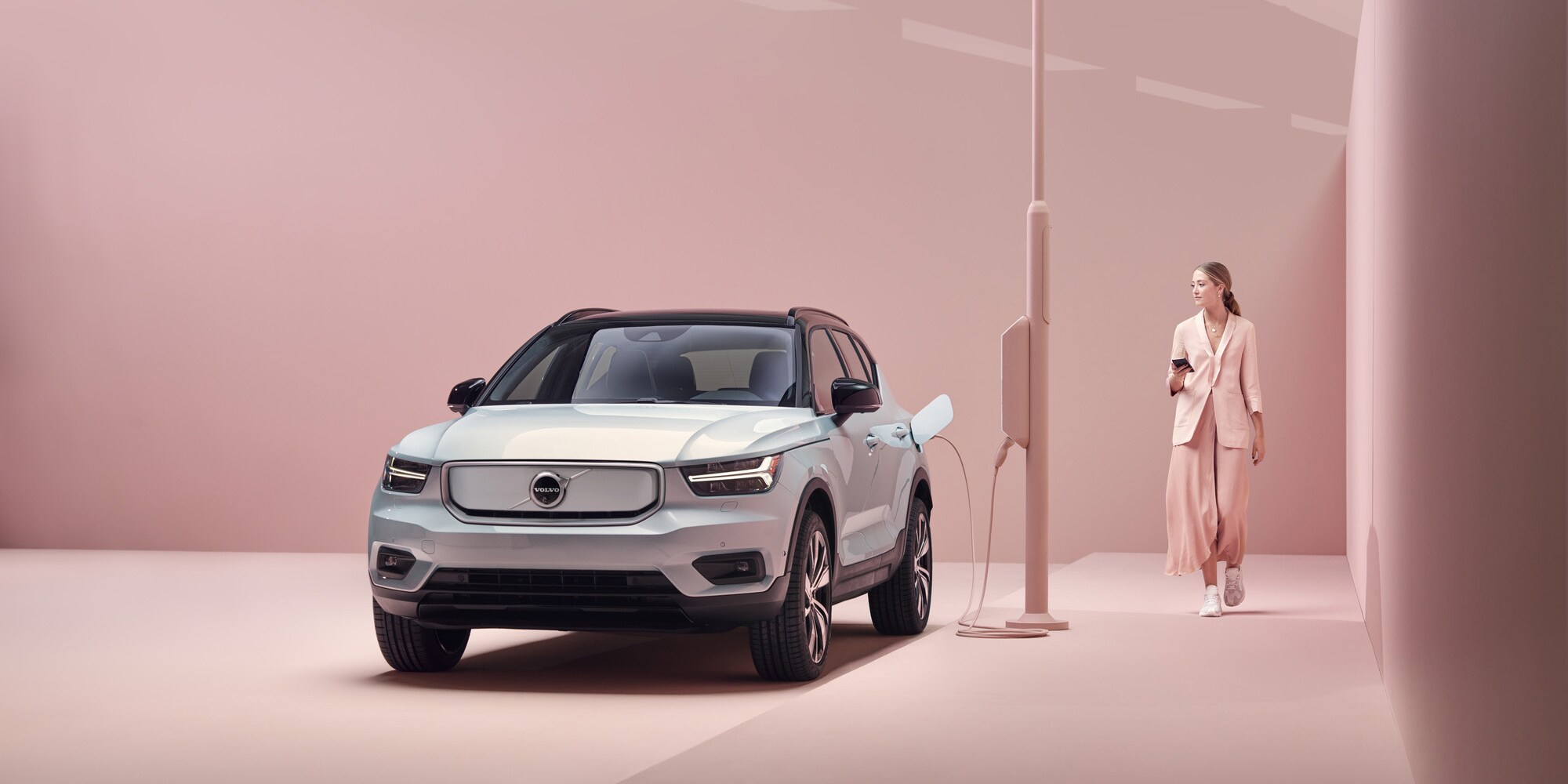 New, 2022 Volvo XC40 Recharge Pure-Electric SUVs at Volvo Cars Monterey Near Seaside, CA
The Volvo XC40 Recharge is what started it all.
Its pure-electric grounding placed Volvo Cars at the forefront of electric-vehicle innovation and technology. With a proven history, new Volvo XC40 Recharge luxury SUVs come to Palo Alto improved and advanced. A single overnight charge earns 223+miles of pure-electric roaming, for instance.
Generous federal tax credits encouraging sustainable vehicle acquisition also apply.
Performance
Several features standout when it comes to Volvo XC40 Recharge performance. And to think of all that's saved without need of fuel or oil changes. Emissions are eliminated and money is better spent elsewhere.
So, browse below the following details for a comprehensive understanding of Volvo XC40 Recharge capability:
Dependent upon outdoor temperatures and other conditions, average battery charging of 37-minutes provides capacity between 10 - 80%.
Generated torque comprises 486 lb.-ft., along with 402 hp.
Cargo capacity is measured to 57.5 cu.-ft.
Up to five passengers are seated comfortably.
Towing capability encompasses 2,000-lbs. hauled safely past Monterey.
Driver Assistance
What's an up-to-date Volvo XC40 Recharge without its full complement of driver-assistance and safety features?
With every Volvo luxury model, safety is inherent. Steel safety cages and crumple zones mitigate the harm from crashes. Extensive airbag configurations provide a cocooning affect across the cabin.
And the following driver-assistance functions make piloting Volvo XC40 Recharge ever-more savory:
Parking is helped along with four exterior cameras providing a surrounding view of things.
Forward-collision avoidance employs sensors and radar - day and night - to mitigate any harmful circumstance on the horizon.
Cross-traffic alerting with autobrake function engenders the confidence needed when reversing out of tight Palo Alto lots.
The Blind Spot Information System actively monitors the adjacent space wherein other vehicles are not immediately within sight.
Lane-keeping assistance will subtly apprise you of veering from an intended lane by way of a steering wheel vibration.

Electric Vehicle Federal Tax Credits & Volvo XC40 Recharge
To entice the nation towards reducing caustic emissions and reliance on fossil fuels, the federal government extends the opportunity to claim generous tax credits when acquiring Volvo XC40 Recharge.
Given an all-electric powertrain, Volvo XC40 Recharge may qualify for up to $7,500 in federal tax credits. This comes in addition to a complimentary, one-year subscription to discounted energy extended by Volvo Cars.
Interior
With a nod to the environment, Volvo XC40 Recharge features a cabin immersed in sustainability. From carpets to other interior materials, recycled plastics comprise a healthy percentage of cabin luxuries.
And given the absence of a weighty combustion engine, smart storage solutions are found throughout Volvo XC40 Recharge. Gym bags, water bottles, electronic devices and even take-away food has a devoted space for storage and easy transport.
Volvo XC40 Recharge also features built-in Google applications that spring to life with simple voice commands:
For navigation, tell Google Maps where you want to go in Salinas.
Dinner reservations in San Jose are confirmed via Google Assistant.
Led Zeppelin playlists are secured with Google Play, while belted from Harman Kardon speaker arrays.
Volvo Cars Monterey: Home to the 2022 Volvo XC40 Recharge Pure-Electric SUV
Visit our local Salinas area, Volvo dealership for more information and test drives of Volvo XC40 Recharge. Finance offers and lease deals may apply.
Sorry, we do not currently have any featured inventory on our website.
Please call (831) 899-8800 for further assistance.

How can we help?
* Indicates a required field